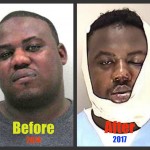 An Augusta driver got the violent end of a road rage confrontation after he followed the other driver to his home, authorities said.
Tony Holloway (pictured at right) suffered a broken jaw after getting punched in the front-yard feud Saturday on Virginia Avenue.
The driver who he had followed there –  Travares Mack – was also arrested along with Mack's uncle, Sean Shubert, who tried to intervene and struck Mack with his vehicle, authorities said.
The road rage incident started Saturday afternoon on Gordon Highway. Mack said Holloway made a sudden lane change in front of him that forced him into the Budget Inn Express parking lot, instead of turning on Tubman Home Road.
Mack stopped in the hotel parking lot and saw Holloway pull over in the parking lot of Lawson's Audio. Mack claims that Holloway got out with a knife and cursed him.
Mack (pictured at right
) got back into his vehicle with his girlfriend and drove home. Once there, Holloway pulled up and jumped out of the vehicle with the knife again and walked into his yard, a sheriff's report says.
Suddenly, Mack's uncle drove up after hearing about the confrontation, and he hit Holloway with his car. Holloway "fell onto his hood and then rolled onto the ground," a sheriff's report says.
After that, Mack punched Holloway several times in the face, according to witnesses. Mack also kicked and punched the man while he was on the ground, a report says. One witness claims Mack struck the man with his crowbar.
Holloway, 30, was taken to Augusta University Medical Center after the attack, but a sheriff's report says his jaw could be fractured. He was later taken to jail and photographed with bandages surrounding his face. He was charged with simple assault and an unrelated terroristic threats charge from last year.
Mack, 37, was charged with simple battery. Shubert, 46, was charged with reckless conduct.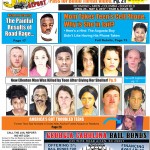 This is one of many stories in today's issue of The Jail Report. Pick up your copy today at local convenience stores.