Augusta's latest homicide victim was found stuffed in a garbage can in an abandoned house on Tuesday morning, authorities said.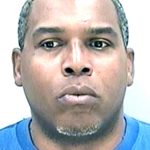 The shocking discovery of Juan Cook's body came two days after the convicted felon was accused of shooting his girlfriend several times while she slept at the couple's residence on Barker Drive. She was rushed to Augusta University Medical Center for treatment Sunday. A motive was unclear.
On Monday morning, sheriff's officials put out a Wanted poster for 50-year-old Juan Cook (pictured) for aggravated assault and more. But fingerprint identification confirmed that the body found in a home on Chestnut Street and Anderson Avenue Tuesday morning was the wanted man.
The new question is: Who Killed Juan Cook? And why?
Stay tuned…