An Augusta mother has been arrested for allegedly beating her 5-year-old son for acting up at school, according to a sheriff's report.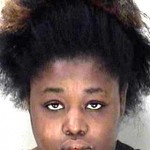 Tyshika Minor, 29, was charged Friday with cruelty to children in the first-degree. She remained in jail without bond over the weekend.
The boy's father,  Dorian Lambert, told deputies that he picked up his son from his mother, who resides on Hunter Street. The mother told Lambert that she had spanked their son for misbehaving at school.
Once the father got his son to his home, he examined the bruises and thought they were serious enough to take him to Doctors Hospital. That is where the sheriff's office was notified.
Deputies observed the boys left thigh, which had a bruise with a small cut in it. In addition, the left hip was completely covered in bruises with a few small cuts.
Authorities notified the Georgia Department of Family and Children Services, and case manager Courtney Jenkins determined that the wounds were excessive. She officially placed the boy in the custody of his father.
"Contact was made with the suspect and she was asked to come to the hospital. Upon her arrival at the hospital, Tyshika Minor was read her Miranda rights and taken into custody," a report says.
For more crime news, pick up this week's edition of The Jail Report, sold in local gas stations for $1.50.