An Augusta man has died from injuries suffered during a two-state chase with cops on his motorcycle.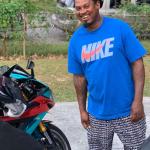 Troy Archie, 41, died at Augusta University Medical Center on Tuesday night.
Here is Wednesday's press release from Aiken County Coroner Darryl Ables:
"The Aiken County Coroner's Office is reporting the death of a 41-year-old Augusta man.  Troy Archie of Tuttle St. was pronounced dead (Tuesday) night at 9:24 at Augusta University Medical Center from injuries sustained after wrecking his motorcycle in North Augusta yesterday. 
"Mr. Archie was involved in a chase with Georgia State Patrol that started in Richmond County and crossed over into North Augusta where he wrecked his motorcycle on Jefferson Davis Hwy near Hamburg Rd. 
"Mr. Archie will be autopsied tomorrow in Newberry."
Archie is already being remembered by his motorcycle friends on Facebook:
Jessi Mack said: "We lost a brother today‼️ Crazy how you're cracking jokes one day then gone the next. Ride in Heaven homie until we ride again 💪🏾. We love you Troy Archie."
Be the first to see Richmond County arrests each day. Become a supporter on The Jail Report's Facebook page and get a morning video with all of the mugshots from the previous day. You also get other exclusive content for just $4.99 a month.