An employee of TitleBucks Title Pawn was arrested Tuesday for allegedly conning the Augusta business out of over $100,000, and a second suspect is being sought in connection with the scam.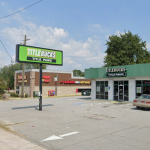 Shantel Leshae Reese, 31, of 2213 Ridge Crest Drive, Augusta, was charged with five felony counts of theft by deception. She has already bonded out.
Carl Tyler Jr. is being sought for theft by deception, identity fraud, and forgery in connection with the fraud at the title pawn business, located at 3018 Peach Orchard Road in Augusta.
On Monday, authorities learned that Reese had confessed to her district director, Christopher Elliot, to 36 counts of theft by deception by the use of fraudulent title pawns, totaling over $100,000, according to a sheriff's report. She did this by maintaining numerous fraudulent accounts, according to arrest warrants.
If you know where Tyler is, please contact Inv. Joshua Evans or any on call investigator at the Richmond County Sheriff's Office at 706-821-1085 or 706-821-1020.
For more arrest stories, pick up the latest edition of The Jail Report, sold in local stores or online at thejailreport.com.