A convicted killer serving time at the Augusta State Medical Prison was charged last week with stabbing a fellow inmate in the neck with a homemade weapon, the latest violence to come from the Grovetown facility.
(This is one of many stories in the new issue of The  Jail Report, sold in local gas stations. Pick up your copy today.)
Joshua Barnes, 30, is accused of stabbing inmate Carlos Little in the neck down to the bone, according to a warrant. In addition, Barnes stabbed the victim in the arms multiple times as well as the back, cheek and chest, but he survived.
The stabbing occurred Dec. 7th, but Barnes wasn't charged until last Wednesday, when he was transferred to the Columbia County Detention Center to be formally booked for aggravated assault.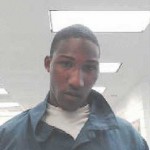 Barnes was being held at the medical prison for a Fulton County murder and other charges from a 2012 incident. (He is pictured at right in his official prison mugshot.)
According to Atlanta media reports, Barnes killed 60-year-old John Johnson in a car near Dahlia Avenue when he was shot in the head. Later, Barnes was aiming at an Atlanta police officer when the bullet he fired hit a woman's house.  The bullet went through her front window, tore through the curtains and chipped a door frame before hitting the bathroom wall.
Little, the victim in the prison stabbing, was serving time for armed robberies that occurred in Chatham County. He required several surgeries after this month's stabbing.
The stabbing is the latest in a string of violence at the prison. Another man, featured in last week's Jail Report, was arrested for a prison rape at ASMP.
Isaac Reynolds, who is serving time for child molestation and aggravated sodomy, is accused of assaulting a 48-year-old man in the gym bathroom earlier this year and anally raping him, according to a warrant.
Reynolds, 28, was formally charged with aggravated sodomy for the prison rape earlier this month in Columbia County since the prison is located in Grovetown. He was transferred to the Columbia County Detention Center on Dec. 15.
Reynolds has been in state prison since 2007 when he was 20 years old. He is serving a 25-year sentence for molesting a child in 2007 and a separate 20-year sentence for aggravated sodomy in 2006. Both of those crimes occurred in Floyd County.
Augusta State Medical Prison is the same facility where an inmate died last year after being repeatedly stabbed by a fellow inmate. Tyrafred Amira Campbell was charged with murder in the death of Shannon Levi Grier in that case.
And in 2011, Inmate Antonio Wiley was found stabbed to death. Three inmates were charged with murder in that case.