An Augusta rape suspect was killed Wednesday in a suicidal standoff with Mississippi officials who were trying to serve a warrant on that rape.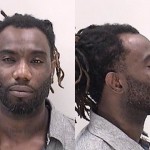 Kenyatta Lee Moorehead, who has a long history of crime in the Augusta area, was found hiding at 7 a.m. Wednesday in a home in Hinds County, Mississippi. Officers with the U.S. Marshals Service were trying to arrest the 36-year-old suspect on Richmond County warrants for a rape and burglary that occurred last week in Augusta on his longtime girlfriend.
Moorehead was found in a closet, but he rushed out with a shotgun and gunfire was exchanged with marshals, according to The Clarion-Ledger. Moorehead then barricaded himself in the home and declared that he "wasn't coming out alive," the newspaper reported.
The next series of events are unclear, but the standoff ended about 10:30 a.m. with Moorehead's death. The Mississippi Bureau of Investigation is looking into the circumstances around the death.
The Augusta rape. Moorehead was being hunted for last week's violent rape of his longtime girlfriend in Richmond County.
According to a RCSO report, Moorehead had moved out of his girlfriend's home in April. They had been together for eight years. But Moorehead returned last Monday and kicked in the door of her home while she was sleeping in the bed with the couple's 7-year-old daughter.
The victim grabbed a gun that was lying on the washing machine. "I will shoot you," she told Moorehead.
But when she pulled the trigger three times, the gun didn't fire. Moorehead then  knocked the weapon out of her hands, grabbed the weapon and choked his girlfriend with the other hand. Moorehead demanded oral sex while he was ripping off her clothes. He tried to rape her but stopped after having problems completing the act, a sheriff's report says.
While Moorehead dressed himself, the victim raced from the home and flagged down a witness to call police. Moorehead was gone when authorities arrived. He turned up in Mississippi this week, where marshals were trying to serve warrants for rape, aggravated sodomy and burglary.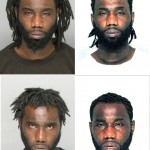 History in Richmond County. Moorehead has a long history of violence in Richmond County dating back to his teenage years. He was sentenced to 10 years in prison for two aggravated assault cases in 1996.
Moorehead was free and started up another crime spree here in 2011 when he was arrested for theft by receiving stolen property, felony interference with government property, possession of a firearm by a felon and obstruction of a law enforcement officer. He was also charged the same year with simple battery – family violence. He got five years of probation for all his 2011 crimes.
In June 2012, he got 12 months of probation for simple battery – family violence. That could be why a judge gave him a year in prison a year later when he was charged with the more serious offense of battery – family violence.
In June 2015, he was charged with misdemeanor stalking, but that case appears to still be lingering in the court system, according to online court records. It will be closed now that the suspect is dead.
For more crime news, pick up this week's edition of The Jail Report, sold in local gas stations for $1.50.