Two men were shot early Sunday on Broad Street as gun violence continued to plague Augusta during Masters Week.
The men were not identified by authorities, but online prayers were sent for the victims, identified on their Facebook account names as Tyj Wilson and Shiesty Dee.

According to a press release, Richmond County deputies responded to Broad Street at its intersection with 10th Street around 2:50 a.m. Sunday in reference to shots fired and one victim down.
"Upon arrival, Deputies located a black male victim with at least one gunshot wound to his neck. The victim was transported to the hospital where he is listed in critical condition. Investigators were made aware of a second gunshot victim, black male, who drove himself to the hospital and he is listed in stable condition," sheriff's Sgt. Caleb Lee said.
Sgt. Lee said the investigation was ongoing and he declined to release any further information.
Second Sunday shooting. Meanwhile, as the Masters Tournament was finishing up Sunday, deputies responded to more gun violence on Washington Road near Alexander Drive.
Deputies determined that the driver of a black Crown Victoria fired at least two shots at a silver car during a chase. Deputies were able to locate and arrest the driver of the Ford Crown Victoria, 29-year-old Kelvin Taylor. He will be charged with aggravated assault and weapon possession.
"This incident is not Masters related," Sgt. Lee said in his press release, adding that a mugshot of Taylor was not available.
The shootings followed other gun violence in Augusta during Masters Week, including:
• At 6 p.m. Wednesday, a man and woman were both shot in the buttocks during a drive-by shooting on the 2500 block of Kensington Drive West in Augusta. The suspects were described in a report as four unknown individuals in the vehicle, "possibly black males wearing masks and dark black clothing."
The suspects "pointed firearms outside the windows of the vehicle". They stopped in front of a home, exited the vehicle and then continued to fire towards the residence. After multiple rounds were fired, they left.
A report lists four victims, including a 66-year-old female, a 35-year-old female and two teen males, ages 18 and 16. A heavily-redacted report doesn't make it clear who was shot. In addition to the two people shot in the buttocks, an apparent third victim was "struck on his right forearm from a bullet," the report says.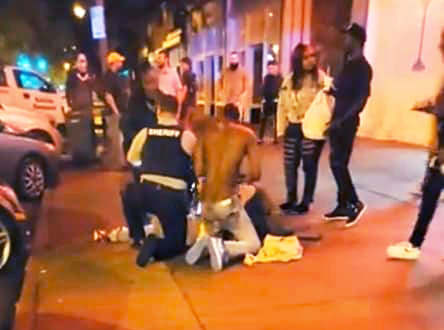 Just after midnight Thursday on the 500 block of Broad Street, 27-year-old Charniquea Mingledolph was shot while talking to two men about money. According to a sheriff's report, the victim was found laying on the sidewalk with a gunshot wound to her lower abdomen. A Facebook video shows the women being assisted by a deputy and a witness who took off shirt to help. The victim contacted The Jail Report to share a photo of the man shot her, but we could not confirm the information.