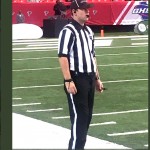 A salesman at Johannsen's Sporting Goods stole thousands from the Augusta business by altering checks and fooling high school coaches, according to a sheriff's report.
Chase Huffman, 27, of Evans, was charged Saturday with felony theft by taking.  He's been a salesman at the Broad Street business since 2012. (The suspect also works as a local football referee and posted last year on Twitter about his work as a referee for state championship games.)
A client alerted owner Patrick Johannsen to over 10 checks that had been written to Johannsen's Sporting Goods for hats, but the business name was scratched off and replaced with "Chase Huffman." The checks totaled $4,635.
Even worse, Huffman allegedly fooled several high school coaches from Columbia County.
From the sheriff's report: "Patrick Johannsen stated that he has been receiving phone calls from coaches from several High School advising that Chase Huffman had told them that he had several hundred dollars in credit, around $600-$800 from vendors which he would sell for cash money, $250. Patrick Johannsen stated that Chase Huffman did go to several schools in Columbia County and received money from the coaches."
Huffman is free on bond. He could not be reached for comment.