Richmond County authorities have released the mugshot of the chase suspect blamed for a deadly cash during a failed traffic stop. He was impaired and was wanted for felony warrants in other states.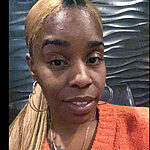 Willie Sturdivant, 30, was being held pending charges in Wednesday night's wreck that killed 33-year-old Ashley Irvin, a mother of two. He will be charged with felony murder and DUI, among other charges.
The victim was killed Wednesday night when her vehicle was struck by a suspect involved in a rush-hour chase with a Richmond County deputy. Sturdivant was also injured when his vehicle overturned in the wreck, and he appears in a hospital gown in his mugshot.
The Georgia State Patrol is investigating the crash at the request of the sheriff's office.
They said a RCSO deputy attempted to stop the driver of a blue Nissan Rogue for violating the hands-free law on Olive Road near Cooney Circle. The vehicle refused to stop and initiated a pursuit with the suspect failing to stop for a red light on Gordon Highway and Thomas Lane.
The driver struck a white Chevrolet Impala that was traveling southbound on Thomas Lane. The driver then struck a blue Dodge Charger that was stopped in the left turn lane traveling east on Gordon Highway. The crash caused the Nissan Rogue to overturn.
EMS responded and transported all the drivers to Augusta University Medical Center. The driver of the Nissan Rogue and the Dodge Charger were treated for non-life threatening injuries. The driver of the Chevrolet Impala, Ashley Irvin, was transported for the treatment of life threatening injuries, eventually succumbing to her injuries at AUMC.
Authorities later learned that Sturdivant had several felony warrants from several different states, the GSP said. Sturdivant is being charged for hands free, reckless driving, failure to obey a traffic control device, driving while unlicensed, DUI, felony fleeing and attempting to elude, homicide by vehicle in the first degree, and felony murder.