A 17-year-old Augusta teen was fatally shot on Friday night.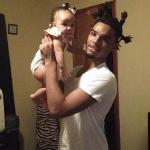 Deangelo "Deeman" Burns, 17, of Smith Drive, was shot on the 3000 block of Abelia Drive, and he was driven to Circle K on 2822 Peach Orchad Road. He was pronounced dead at 9:50 p.m., Coroner Mark Bowen said in a press release.
The victim will have an autopsy performed Saturday at the GBI Lab in Atlanta.
The Richmond County Sheriff's Office has not released any information on the suspect or motive. Stay tuned for updates..
Note: If you have a better photo or memory to share of Deeman, please text it to 803-487-3224.
For more crime news, pick up the latest edition of The Jail Report, sold in local gas stations. Here is the cover.