An Augusta teen faked a home invasion at his grandfather's home Sunday to hide his theft of two TVs and a tablet, according to authorities.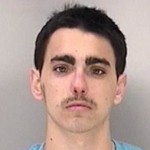 Taylor Peel called 911 over the weekend, telling dispatchers that he had just been tied up and robbed at his grandfather's home on Bridgewater Drive in Augusta, a sheriff's report says. When deputies arrived, the 19 year old had electrical tape around his ankles, wrists, and neck from the "home invasion."
"Peel stated that unknown persons wearing ski masks and gloves entered the residence of his grandfather, John Minick, who was out of town and had given Peel permission to stay while he was gone," a sheriff's report said.
The teen said the masked burglars took a $3,500 Sony TV, a smaller $350 Samsung TV and a $400 Samsung tablet. The same teen was staying at his grandfather's home on Feb. 12 when he also reported a burglary occurred there with theft of several items.
But as officers began to further investigate the break-ins and the claim that he was tied up, Peel's story started to unravel. He later confessed that the claims were all lies. Peel said he actually sold the items to buy illegal drugs, a report says.
Peel was charged with two counts each of theft by taking and false report of a crime. He remained Tuesday night in the Richmond County Detention Center.
Editor's Note: Peel is the same man featured in The Jail Report last week for allegedly stealing Magic playing cards from the North Augusta Walmart. Peel called our office last Thursday and claimed he was trying to return the cards when he was arrested. He said he was thinking about stealing them to sell and pay a debt. Peel said he would send an email telling his side of the story. He never did.    Before the call ended, Peel asked for a job with The Jail Report. We turned him down.