An Augusta teen is being sought for involuntary manslaughter in the shooting death of his older sister on Central Avenue, authorities said.
Tyquan Dukes, 17, is accused of causing the death of 18-year-old Meshela Dukes around 10:30 p.m. Wednesday on the 1500 block of Central Avenue. That victim was pronounced deceased on the scene at 10:50 pm.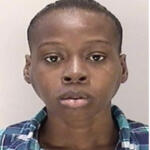 Investigators have issued a warrant for Tyquan Dukes for involuntary manslaughter in relation to the case. In addition, Sihita Dukes is wanted for questioning in reference to the incident as well.
If anyone has any information concerning Sihita Dukes, please contact Inv. Sean Morrow or any On-Duty Investigator with the Richmond County Sheriff's Office at (706) 821-1020 or (706) 821-5281.
In Georgia, a person commits the offense of involuntary manslaughter in the commission of an unlawful act when he causes the death of another human being without any intention to do so.
Note: If you have a better photo of Meshela Dukes to share, please text it to 803-487-3224.