A 2-year-old started a fire Saturday in his Augusta home after he, his 9-year-old brother and 4-year-old sister were left alone while their mother was at work.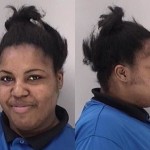 The oldest child told a Richmond County Sheriff's deputy that he was asleep when the fire broke out, but his sister woke him up and he was able to put it out.
Dispatch received a call just before noon advising them that three children were alone at their Blum Street residence and they were either playing with fire or smoking. When deputies arrived, all three were in an upstairs bedroom looking out the window.
The 9-year-old said his mother would be home at 4 p.m. Deputies waited for Jameka Bennett, who said that a neighbor was supposed to be keeping an eye on them but the woman was not home when the fire started. Deputies discovered that the neighbor lived more than three buildings away.
Bennett, 24, of the 500 block of Blum Street, was arrested and charged with three counts of deprivation of a minor, a report said.