A poverty-stricken Augusta woman died minutes after being raped in a 15th Street boarding house last week, but her death was not connected to the sexual assault, authorities said.
Marcus Dewayne Booker, 45, of Augusta, has been charged with felony rape of the 42-year-old victim. According to warrants, the woman was raped at 8:30 a.m. Feb. 1.
The coroner's officer pronounced her dead at 9:05 a.m. Feb. 1.
Coroner Mark Bowen said the death was initially considered suspicious but the autopsy revealed no signs of trauma that would have killed her. He is awaiting toxicology to find out the cause of death. A rape kit was also conducted on the woman's body.
"We don't believe she was murdered," Bowen said. "It could be a natural death or an accidental death or an overdose. They haven't given us anything to lead us to believe it was a homicide."
According to authorities, the victim consented to sex with a man and then became unconscious inside the boarding house on the 1700 block of 15th Street. That's when Booker allegedly took advantage and had sex with her. Authorities say she subsequently died.
Boarding house resident Kevin Askew told authorities that he discovered her body and contacted landlord Wesley Cummings, who he called 911. Crime scene investigators initially called it a suspicious death in a sheriff's report.
An investigation led to Booker's arrest the next day for felony rape.  He remains in the Richmond County Detention Center under no bond. Booker has a long history of shoplifting and obstruction charges.
The victim has previously been identified as homeless, authorities said.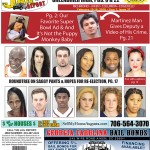 (For more crime stories , pick up this week's Jail Report. Issues are sold for $1.50 in local stores.)