An Augusta woman tracked her child's father down to the Holiday Inn early Wednesday and then sliced him with a butcher knife in the lobby.
Chakoya Lashae Sanders, 25, was holding their 1-year-old child while swinging the knife, according to Columbia County Sheriff's Maj. Steve Morris.
The victim, 29-year-old Charles Edward Kellam, required surgery at Doctors Hospital, where he was listed in stable condition Wednesday morning from the stab wounds.
Ironically, the victim had been released from prison on Monday after serving two years for cocaine possession. He had previous stints in prison for armed robbery, aggravated assault and fleeing police, according to GADOC records.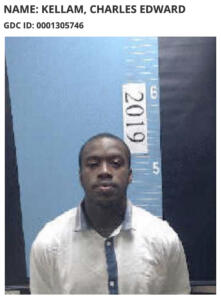 The stabbing happened this way:  Just after midnight Wednesday,  Sanders entered the Holiday Inn on Park West Drive. She asked a front-desk clerk what room Charles Edward Kellam was in.
"The clerk refused to tell her, and while at the front desk, Kellam exited the elevator," Maj. Morris said. "While holding her one-year-old child, Sanders pulled out a butcher knife and started swinging it at Kellam. Kellam was struck several times before running out of the motel."
Sanders set her child on the floor and started chasing Kellam. The victim jumped into a vehicle that Sanders left running in the parking lot then drove to the Pilot gas station where 911 was called. Kellam was rushed to Doctors Hospital.
A K9 unit was called and Sanders was found in a field behind the hotel with her child. The child was released to the grandmother.
Sanders was charged with aggravated assault, weapon possession and child cruelty. Bond was set at $31,300.
The suspect and victim did not live together.
Sanders is a serial shoplifter with a half-dozen arrests for stealing across Richmond and Aiken counties. She also has arrests for trespassing and contributing to the delinquency of a minor. In 2018, she was accused of hiding a pair of tennis shoes inside a baby stroller at an Augusta store.