Prosecutors have secured nanny-cam video of a Hephzibah man's violent assault and rape of an Augusta woman on Friday.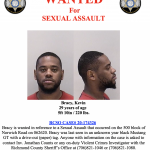 Kevin Bracy, 29, of Fox Den Road, is the sexual-assault suspect who was plastered on the news Friday with a wanted poster.
He was captured on video raping a woman in her apartment, according to a sheriff's report released Sunday.
The 27-year-old victim told authorities that she had plans to meet up with Bracy early Friday after she spent time at a local bar. It was 4 in the morning when the suspect finally texted her that he was outside her apartment and wanted to come in.
Inside the apartment, Bracy told her she was attractive and that he wanted to have sex with her.
"She had told Bracy prior to this encounter that she was practicing celibacy and that did not want any kind of sexual relations with him," a report says. "Bracy then became irate and began to forcibly lay her down on the couch and disrobe her. She attempted to resist and make her way to her bedroom to obtain an item to defend herself but was struck several times on the left side of her face by Bracy using a closed fist."
According to the report, her nanny cam in the living room was active and was able to capture the suspect's assault and rape. The video shows Bracy striking the victim as well as forcing himself on her, according to the report.
After Bracy left, the victim called for help and went to Doctors Hospital for a DNA kit. The sheriff's office released a Wanted poster for Bracy on Friday and he was arrested the same day.