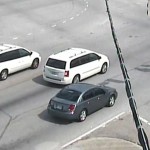 A 10-year-old autistic girl was sexually assaulted in the woods by a stranger Wednesday while walking near Ridge Crossing Apartments, authorities said.
A vehicle of interest has been identified as a Grey 4-door Saturn Ion (shown here) driven by a light skinned black male, approximately 5'09", in his 20's, with shoulder length twisted hair, with red or orange tips, authorities said.
According to a report, the girl returned home acting hysterical and upset. She told her mother that "a stranger did something bad to her." The girl said the man grabbed her hands and led her into the woods near her friend's house. She told her mother that she ran away from him and came straight home.
Authorities say they have no reason to believe the autistic girl was not telling the truth.
If you see the vehicle and subject or have any information that may lead to the identification of the vehicle or subject please contact Inv. D. Gaston or Columbia County Sheriff's Office Dispatch at 706-541-2800.
For more crime news, pick up this week's edition of The Jail Report, sold in local gas stations.