Columbia County authorities have arrested the driver accused in a hit & run Friday afternoon that injured an 11-year-old Martinez boy who was walking home from school.
Gary Vaughn Prescott Jr., 37, of Willowood Road, Martinez, was charged overnight Monday with duty to stop at accident and passing in a no-passing zone, both misdemeanors. He spent four hours at the detention center before getting out on a $2,200 bond, according to jail officials.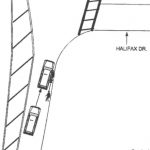 Prescott allegedly struck 11-year-old Elijah Florence along Blue Ridge Drive near Halifax Drive, an impact so serious that the passenger-side mirror broke off after hitting the child. Elijah suffered a gash to his head, a broken foot, road rash and bruise to his elbow. He required 11 stitches and 7 staples to the back of his head.
A witness gave authorities a description of the vehicle and the broken mirror was recovered at the scene. Authorities say that Prescott panicked and hid his damaged vehicle at his girlfriend's house.
Social media was busy over the weekend with reports of the accident and a description of the suspect's red SUV. An off-duty deputy spotted the damaged vehicle, which was missing a mirror, and that led to the suspect's identification, authorities said.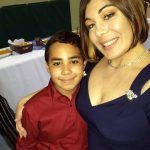 The child's mother, Bianca Brown (pictured with Elijah), posted this message overnight: "We got him!! He was so drunk and to the point he blacked out and hit my son. He doesn't even remember hitting him. A drunk damn driver!!"
Authorities could not confirm whether the suspect was drunk and he has not been charged with an alcohol-related offense. But he did confess that he had been drinking on Friday, according to authorities.
A sheriff's report says the boy contributed to the accident by "improper walking on the roadway." But Prescott was found at fault for failing to observe the child and leaving the scene, the report says.
For more crime news, pickup the current edition of The Jail Report in local gas stations.