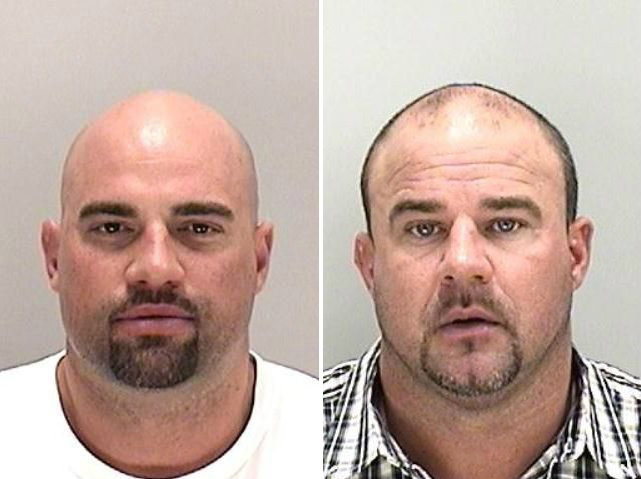 The Paquette brothers have both been arrested overnight in the Augusta area, one for possession of steroids and weapons and the other for allegedly making threats to a Richmond County narcotics agent and his wife, according to authorities.
Brandon Paquette, 32, (left), was charged Wednesday with possession of controlled substance with intent to distribute and possession of a firearm during the commission of a crime.
Cameron "Ryan" Paquette, 34 (right), of Appling, was charged with threatening to bash the head of RCSO Narcotics Agent Joel Danko and sexually assault his wife, authorities said. Because the Dankos live in Columbia County, he's being held there under no bond on two felony counts of terroristic threats.
WGAC's Austin Rhodes identified Brandon Paquette this week as the informant who claimed he was selling steroids to Richmond County deputies. But sheriff's officials said he had not named anyone and there was no internal investigation of steroid use among officers.
Richmond County executed a search warrant Wednesday and stopped Brandon Paquette at his home on Pennsylvania Avenue. They found a significant number of vials of steroids in the suspect's Ford pick-up truck and at his home.
According to warrants, Brandon Paquette was caught with 18 vials of Testosterone Enanthate, Trenbolone Enanthate, 6 vials of Testosterone Cypionate, 11 vials of Cypionate, Enanthate, Propionate, and 11 vials of Trenbolone Enanthate. Possession of those substances are in violation of the Georgia Controlled Substance Act.
In addition, he was found with a handgun and bolt-action rifle while in possession of the illegal substances, the warrant says.
In the case of Ryan Paquette, Lt. Allan Rollins with the Richmond County Sheriff's Office told WDRW-TV that Paquette was threatening Danko, because Danko arrested his brother, Brandon Paquette, during the steroid investigation.
FROM A PRESS RELEASE THAT WAS JUST SENT OUT:
"On October 22, 2014 Brandon Taylor Paquette and Cameron Ryan Paquette were arrested by the Richmond County Sheriff's Office.
"Brandon Paquette was arrested at the end of a narcotics related investigation and charged with Possession of Testosterone with Intent to Distribute and Possession of a Firearm During the Commission of a Crime. This case stemmed from a search warrant at Brandon Paquette's residence on the 1700 block of Pennsylvania Avenue in Augusta, GA.
"Cameron Ryan Paquette was arrested and charged with two felony counts of Terroristic Threats and Acts after threatening one of the case agents, the case agent's wife and a witness in the case with bodily harm. These threats were received at the residence of the agent in Columbia County, and the Columbia County Sheriff's Office is assisting in the investigation.
"Before he was arrested, social media alleged that Brandon Paquette was responsible for an internal investigation into steroid use in the Richmond County Sheriff's Office. At the time he was originally detained, Paquette hinted that he would co-operate and supply names of deputies using steroids. Paquette never supplied any names or provided any evidence of wrong doing by any deputies. At the time of his arrest, he invoked his right to an attorney and declined to answer any questions or make any statements. No one else has come forward with any information or evidence in this case.
"This was a narcotics investigation and there is no internal affairs investigation at this time.
"The Sheriff's office would like to acknowledge the main stream media's professional handling of this information."