The suspects caught on video breaking into the Augusta home of a missing person have been arrested for burglary, but the homeowner remains missing.
The suspects have been identified as 34-year-old Margaret Harris and 40-year-old Ronald Harris Jr., both of Wrens. The Jail Report shared the video on its Facebook page on Tuesday, which showed them searching the home.
Both suspects have been arrested in connection with the burglary that occurred at the home of John Scott Devore. Arrest warrants say they stole narcotics from the home.
The victim was last seen on 3rd Street on March 12 around 10 p.m., a press release says.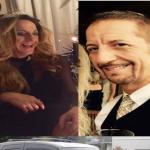 Devore was last seen wearing a white dress and a blond wig. John Devore was last seen driving a black 2004-05 Honda Element with an unknown paper tag taped to the rear window.
The missing persons case is active and continues to be investigated.