An armed intruder was captured Sunday night after surprising two Waynesboro residents and then leading officers on a chase through the woods.
Kenneth Kacy Brown, 28, of Perkins, was caught, but not before a Burke County deputy was injured in the chase.
Full details from a Burke County Sheriff's Office press release:
This evening at 6:20 pm, Deputies responded to a residence on Neely Circle for a burglary in progress. The homeowners entered their residence and found a burglar who pointed a gun at them and then ran out the door into the woods.
Responding Deputies were able to set up a perimeter and apprehend the suspect, Kenneth Kacy Brown 28 years old w/m of Perkins, GA who also had outstanding warrants at the time of arrest. Brown was in possession of a handgun, a sub-compact rife, a SKS sporting rifle, and an AR-15, and drugs (TBD) pending tests.  The Criminal Investigation Division will issues all charges once the investigation is complete.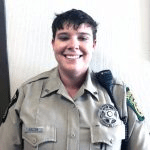 During the incident of pursuing Brown through the woods, Deputy Brittany Nelson (pictured) sustained injuries including a possible dislocated knee and broken wrist. Burke County EMA transported Deputy Nelson to Augusta University Medical Center where they have advised she will most likely need surgery on her wrist.
"Chasing an armed suspect into the woods is extremely dangerous but our Deputies along with Deputies all across America do whatever it takes within the law to serve and protect.  We ask that you please keep Deputy Nelson in your thoughts and prayers and that she has a speedy recovery." Stated Chief Deputy Lewis Blanchard
Brown was taken into custody by Deputies from the Road Patrol and Special Operations Division. Brown is in the Burke County Detention Center with multiple felony charges pending.