Richmond County authorities are hoping you can help them identify the April 9th murder victim by his tattoos.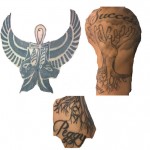 The man was found dead that Sunday on the 1200 block of Holden Drive in Augusta. He is described by police as "a light-skinned black male with a medium afro." He is believed to be in his late teens to early 20s.
From a press release: "The tattoo on the top left was located on the victim's chest and covered the center of the victim's chest from his collarbone area to just below his nipple line. The tattoo on the top right was located on the victim's left upper arm/shoulder with the bottom pictured tattoo being located at the bottom of the top right tattoo." (CLICK ON TATTOO IMAGE TO VIEW IT LARGER)
The Sheriff's Office and the Richmond County Coroner's Office are seeking the public's assistance in identifying the victim. Any information concerning this victim please contact the Coroner's Office  at  (706)821-2382 or the on duty Richmond County Sheriff's Office Violent Crimes Investigator at (706) 821-1020 or (706)821-1080.
If you haven't got this week's edition of The Jail Report, pick up your copy before it's gone. New Issues comes out each Wednesday and contains exclusive content not available anywhere else.