Aiken police connected a local teen to the basketball shootings after last week's rival basketball game between South Aiken and Aiken high schools.
And it appears gang-related, police say. Some of the victims likely got in the way of his intended target outside the South Aiken game, Lt. Karl Odenthal said.
Rakish Breon Jenkins, 18, is now facing charges of attempted murder and other serious charges. He was already jailed Thursday for weapon possession for having a gun on campus.  But overnight, public safety officers identified him as the shooter who sent three people to the hospital with gunshots.
"We continued to get information on the case, and we did some follow-up interviews, and we had some physical evidence from the scene. With those, we were able to link those things together," Lt. Odenthal said. "Ultimately, we concluded that he was our shooter."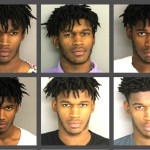 In his short life as an adult, Jenkins has been jailed SEVEN times, including a Dec. 21 arrest for receiving stolen goods and a Dec. 6 arrest for burglary grand larceny and safecracking.
Other previous charges include breaking into a motor vehicle and several that were later dismissed and expunged from his record. The Jail Report does not have access to his juvenile record.
Jenkins was expected to attend a 3 p.m. bond hearing Friday. Complete charges include three counts of attempted murder and possession of a weapon during the commission of a crime.
Warrants say that he had a H&K 9mm handgun and discharged it toward three victims, shooting a 13-year-old girl as well as a 45-year-old woman and a 19-year-old male. The adults were identified in warrants as Breon Brown and Patricia Summer.
The case brings to a close a high-profile investigation after the crowded basketball game climaxed with gunfire that sent parents, students and children scrambling for cover.
PREVIOUS DETAILS: Last Friday, South Aiken High School's basketball team hosted Aiken High School. Following the game, a fight occurred outside of the school building in front of the school. During the fight, an unidentified individual fired several shots. Three individuals were struck by the gunfire.
One victim, a 45-year-old woman, was in front of the school during the fight and suffered a gunshot wound to the thigh. A short time later, Aiken Public Safety was notified of a second gunshot victim who had left the incident and relocated to a nearby fast food restaurant on Whiskey Road. The second victim, a 13-year-old girl was struck in the lower leg. Aiken Public Safety was contacted by Aiken Regional Medical Center's Emergency Room and notified a third victim, a 19-year-old male, had arrived at Aiken Regional Medical Centers for gunshot injuries to the hand and leg.
None of the victims injuries presented appear to be life threatening.
In addition to the South Aiken faculty, coaches, and staff assigned to the game, the event was staffed with six off-duty Aiken Public Safety Officers working security.
The increase in law enforcement presence was due to the expected large crowd. Nearly 1,000 students, spectators, and guests attended the game.
Immediately following the shooting, several officers provided first-aid to injured persons on-the-scene while others, and additional officers who arrived minutes later, searched for the assailant.
Officers and investigators followed numerous leads and suspect descriptions throughout the night as they attempted to locate the suspects involved.
The Aiken Department of Public Safety has been working closely with representatives from the Aiken County School District and officials from both South Aiken and Aiken high schools to help identify and locate possible witnesses.  Aiken Public Safety's investigation has also been assisted by the South Carolina Law Enforcement Division (SLED) and the Aiken County Sheriff's Office.