Shannon Baskin's death has been ruled an accidental death by drug overdose, and the case is closed, authorities said Wednesday.
The Martinez woman mysteriously died Dec. 10 in an North Augusta apartment, but toxicology results show large amounts of marijuana, multiple kinds of pain killers and fentanyl in her system when she died.
"Some of these things were very high levels," North Augusta Public Safety Capt. Joseph Count told The Jail Report. "So the coroner has ruled it an accidental death."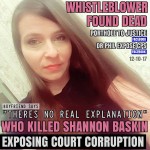 Despite a social media campaign asking about other possible reasons for her death, North Augusta investigators say they have no reason to believe this was anything but "an unfortunate drug overdose," said Lt. Tim Thornton. (See meme at right from Facebook.)
"We don't have any evidence or anything substantial to point toward foul play or wrongdoing," Lt. Thornton said. "We don't have anything else to work with other than there was no forensic signs of trauma to the body.  Toxicology reports indicated the drugs were more than sufficient to affect her body. Drugs killed her."
Baskin's case has garnered a lot of media attention. She was called a warrior, a fighter and a whistleblower, making news for fighting the court system in Richmond County to get custody of her children.
"That fight went all the way to the highest courts in Georgia," Brad Owens said in a Facebook post last month. "She had won all of her fights, when many had said she was wasting her time. She had just finished nursing school, passed her exams and just a few weeks ago got a job at the hospital."
Case Lynn Sommers – the missing woman who was last seen with Baskin – disappeared for several days with Baskin's van before finally surrendering to Columbia County authorities. After being extradited to Aiken County, she refused to talk about the hours before Shannon's death and she bonded out on a charge of motor vehicle theft.
Adding to the mystery: Sommers' ex-boyfriend, Ryan Mock, was found dead Dec. 7  in his truck in a business parking lot in Columbia County. Authorities say he died of an apparent heroin overdose. Relatives told police that he was struggling with drug addiction.
The Jail Report has filed an open records request with the North Augusta Department of Public Safety to examine their investigation into the Baskin death.
According to her online obituary, Baskin earned her Certified Nursing Assistant degree in May 2017.  "She loved God, her children, her patients, and herself… all in that order! Shannon was often described as a Warrior, Fighter, Firecracker! Shannon battled with and defeated both cancer and the Supreme Court," the obituary says.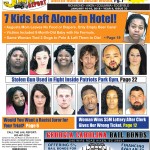 Baskin is survived by her husband Shawn Michael Baskin; four children; a step-daughter, and four siblings.
For more crime news, pick up this week's new edition of The Jail Report. The cover is shown here.