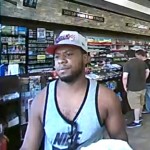 This man is known to purchase cartons of cigarettes using counterfeit credit cards.
The subject has been seen in a white Dodge Charger, a silver Chrysler 200 and a dark colored Lincoln Navigator.
The Columbia County Sheriff's Office needs assistance in identifying this subject in reference to credit card fraud.
Please contact Investigator Randy Chambers with any information on his identity at 706-541-2800.
For more crime news, pick up this week's edition of The Jail Report, sold in local gas stations for $1.50. The paper also features entertainment, such as jokes, word find puzzle, 6-differences puzzle, cartoon and more.