The man facing the death penalty in the 2014 slaying outside a Martinez church became violent in jail Monday and threatened to kill an officer, authorities said.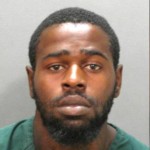 Daniel Nelson Robinson, 23, is being held for the murder of Bill DaVitte in August 2014 outside Marvin United Methodist Church.
On Thursday morning, Columbia County jailers went into Robinson's cell to transport him to another cell for a disciplinary infraction. But Robinson spit on Deputy Jailer Samuel Feffer's face and uniform, a report says. The inmate then made reference to another incident in which Deputy Feffer was cut by another inmate.
"N***a, you better go get your spray. I'm going to finish what Cotton started," Robinson reportedly said. "When I get done with you, n***a, you gonna have more than a scratch on your face. … You know, if I get the death penalty, I'm going to kill you. F*** it, I'm going to kill you anyway."
Later, as six deputies were putting Robinson in a restraint chair because of his violent behavior, the inmate took an aggressive stance. So Deputy Paul Vance II used pepper spray on him for two or three seconds. Robinson reacted by swinging his fists at the officer and hitting him in the forehead about his left eye, a report says.
Deputies were finally able to restrain the murder suspect and apply the handcuffs before placing him in the restraint chair. Robinson was checked by medial staff and decontaminated in a jail shower.  Deputy Vance suffered a bruise on his forehead, a report says.
Now, Robinson is facing two counts of obstruction of an officer.
He's a violent criminal with a long history in Florida including seven arrests.
In the Martinez case, he's been indicted on nine felony counts including murder, possession of a firearm during the commission of a crime, hijacking a motor vehicle, armed robbery, aggravated assault and possession of a firearm by a convicted felon.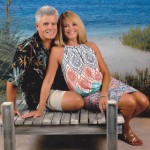 On Aug. 14, 2014, DaVitte was shot to death, and his wife, Jennifer, suffered head injuries in the attack outside Marvin United Methodist Church. The couple (pictured) was at the church to turn on the sprinkler system when the attack occurred.
Robinson, who was 21 at the time, was captured in Jacksonville after leading authorities on a high-speed chase along I-95.