A woman carrying a small child stole dog supplies from a North Augusta Walmart and then fled a loss prevention officer and led police on a chase, authorities say.
Can you help identify her from these images?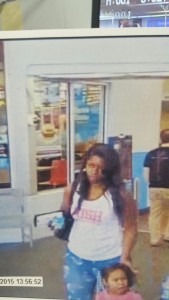 Authorities say she took some dog supplies and concealed them inside of her purse and exited the store. The suspect had a very small child with her, approximately 2- 3 years old.
Once confronted by loss prevention, the suspect got into a tan Chevrolet Monte Carlo and a police officer made contact in which the vehicle sped away from him. The public safety officer chased the vehicle to U.S. 1 at the 5th Street bridge and terminated the chase.
If you recognize her, please call North Augusta at 803-279-2121.