An Aiken man defended a violent assault on his 13-year-old step-daughter Monday as discipline, authorities said.
"I was simply disciplining my kid," Ivan Jay Jr., reportedly told an officer after being arrested. "If I don't discipline my kids, y'all will."
(For more crime news, pick up this week's Jail Report. It is sold in local stores.)
According to an Aiken incident report, Jay confessed to a violent assault on the girl. He said his step-daughter came at him swinging, so he pushed her. He then struck her on the shoulder,  pushed her in the neck and kicked her in the rear end, a report says.
A witness called police and told them about the assault at the home on Carver Terrace. Cops found Jay to be drunk with blood shot eyes and slurred speech, a report says.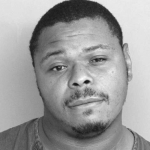 The victim told police that Jay assaulted her during an argument over a cell phone. She claimed Jay put her in a headlock and repeatedly struck her on the top of her head with his fist. She refused medical treatment.
Jay was arrested for child cruelty and an outstanding warrant for malicious injury to property.