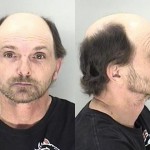 A convicted sex offender from Colorado drove over 22 hours to Georgia over the weekend to have sex with a 14-year-old Augusta girl, authorities said.
But the girl was actually a GBI agent who's been posing as a child online for two months, authorities said. And when the pervert showed up at the designated meeting spot, he got arrested!
Richard Andrew Mennemeyer, 48, of Northglenn, Colo., was charged with criminal attempted child molestation, a felony. He's sitting in the Richmond County Jail with no bond.
A warrant accuses him of attempted child molestation, saying he drove from Colorado to Augusta to "meet with a person who he believed to be a 14 year old girl for sex." The accused had been "communicating online with an agent for approximately 2 months," the warrant says.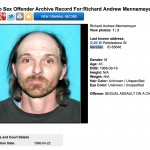 Mennemeyer is a registered sex offender who was convicted in 1998 of "sexual assault on a child". In that case, he was sentenced to 90 days in jail, probation and some fines. At some point, the suspect moved to Idaho, where he had to register as a sex offender. But his current address is listed as Northglenn, Colo., which is outside of Denver.
The arrest is part of an effort by the Georgia's Internet Crimes Against Children Task Force. The mission of the ICAC Task Force, created by the U. S. Department of Justice and managed and operated by the GBI in Georgia, is to assist state and local law enforcement agencies in developing an effective response to cyber enticement and child pornography cases.
This support encompasses forensic and investigative components, training and technical assistance, victim services, prevention and community education. The ICAC Program was developed in response to the increasing number of children and teenagers using the internet, the proliferation of child pornography, and the heightened online activity by predators searching for unsupervised contact with underage victims.
By helping state and local law enforcement agencies develop effective and sustainable responses to online child victimization and child pornography, the ICAC program delivers national resources at the local level.