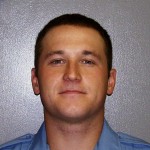 A Columbia County deputy was busted for drunk driving in downtown Augusta early Saturday, authorities said.
Deputy Andrew Thomas was off-duty when he was stopped by a Richmond County deputy at 3 a.m. Saturday at the intersection of 15th and Broad streets in Augusta. He blew a .138 BAC on a breathalyzer.
He was arrested for DUI and taken to the Richmond County Jail, but he has been released on bond.
Thomas is pictured above in his jail mugshot and again at right in his official CCSO photo from 2015. He has been employed with the sheriff's office for two years.
The Columbia County Sheriff's Office has placed Thomas on administrative leave, sheriff's Capt. Steve Morris said in a press release.
No other Columbia County deputy who has been arrested in the past has remained employed with that agency. They are usually fired within a few days.
For more local crime news, pick up this week's edition of The Jail Report, sold in local gas stations for $1.50.