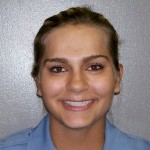 A Columbia County deputy jailer was fired Monday after her weekend arrest for DUI in a wrong-way crash on Riverwatch Parkway.
Montana Dawkins, 25, was charged in Richmond County with DUI, wrong side of the roadway and no proof of insurance. She has worked as a deputy jailer with the Columbia County Sheriff's Office since August 2016.
Authorities say no one was seriously injured in the Saturday crash.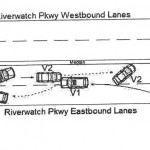 Dawkins was on 15th Street and was going to head home on Riverwatch, but she mistakenly turned left and traveled on the off-ramp for Riverwatch, traveling the wrong way. Authorities say Dawkins was traveling WEST in the EASTBOUND lanes of Riverwatch Parkway after midnight Saturday when she caused a wreck with her Toyota Rav4 ( she is vehicle 1 in sketch).
The driver of a 2005 Chrysler Town & Country saw the woman's car approaching his in the right lane and tried to avoid it. But Dawkins' vehicle struck the front of the other vehicle, a report says.
The other driver, Sidney Schaefer, 20, of Martinez, was also given a citation for DUI under age 21, a report says. He had two passengers in the car, Ja'Quan Jones, 25, and Charles Harper, 21.
Dawkins was released around 7 a.m. Saturday and had a hearing at the sheriff's office on Monday before being fired. She told authorities she had been out drinking with friends in downtown Augusta before heading home.
"Because of her position in law enforcement and the public trust bestowed upon her, to say that we are disappointed is an understatement," CCSO Maj. Steve Morris said in a statement.
What should her punishment be? Tell us in the comment section below.
For more crime news, pick up the latest edition of The Jail Report. A new issue hits stores on Friday.