A 15-year-old Appling boy was arrested for murder early Thursday for killing his father.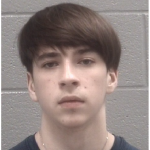 The juvenile was identified as Tucker Loyal Gales. He told officers that he "had enough of his father abusing his mother," sheriff's Maj. Steve Morris said in a press release.
The teen killed 66-year-old Wesley Jordan Gales at the family residence at 3353 Gales Road. Deputies responded around 8:30 p.m. Wednesday for what was initially described as a CPR in progress.
   "A second call from the same address provided dispatchers with the information that there was blood everywhere," Maj. Morris said. "Once on scene, deputies quickly determined that there was a male on the back porch of the residence suffering from a gunshot wound to the head."
    He lived at this address and deputies found his former wife, Deborah Gales, at the house as well as their 15-year-old son. Deputies separated the mother and son and heard spontaneous utterances which indicated that the victim had been shot by the son. The son was interviewed and admitted to shooting his father with a .22 caliber Marlin semiautomatic rifle, Maj. Morris said.
The son was charged with murder and transported to the Regional Youth Detention Center.
The deceased was featured in The Jail Report for a March 11 arrest for battery under Georgia's Family Violence Act. Wesley Gales was also charged in that case with cruelty to children, which is a customary charge when a juvenile witnesses the domestic assault.