The GBI has released details on the encounter that led to the death of RCSO Investigator Cecil Ridley. Here is their press release: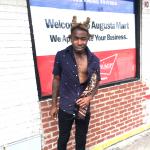 "Preliminary information indicates that last night around 08:30 pm, the Richmond County Sheriff's Office Narcotics Unit was conducting routine patrol in the area of 1713 MLK Boulevard, Augusta, GA.  Officers encountered several individuals outside of the Augusta Mart.  One individual, identified as Alvin Theodore Hester Jr., age 24, went inside of the store.  One officer approached him inside, and Hester attempted to exit the store as Investigator Cecil Ridley, age 51, was entering the store. As Hester approached Ridley, Hester shot Ridley.  The other officer returned fire inside the store.  Hester makes his way to the parking lot where he encounters another officer and raises his gun.  Both officers fire at Hester, striking him.  Officers make contact with Hester and he is taken to the hospital for treatment.  He remains in the hospital undergoing treatment.
"A total of two officers fired at Hester.  Investigator Ridley was unable to return fire and died as a result of his injuries.  Charges against Hester are forthcoming.
"The GBI will continue its independent investigation. Once complete, it will be turned over to the Richmond County District Attorney for review."
Hester's background. Hester served only seven months of a 2-year sentence before being released in June 2018 for dealing cocaine and obstructing officers the year before. He was on probation when the shooting happened. Hester also has previous arrests for burglary, shoplifting and obstruction.