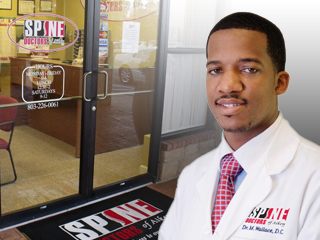 An Aiken chiropractor is back to work despite his arrest Monday on charges of sexually battery on a physically helpless victim at his office, authorities said.
Dr. Maurice S. Wallace, 41, is accused of engaging in sexual battery on a victim inside the office at Spine Doctors of Aiken, a chiropractor office at 2678 Whiskey Road, authorities said. His attorney says the alleged victim is not a client.
According to the warrant, Dr. Wallace "knew or had reason to know that the victim was mentally incapacitated or physically helpless at the time." The alleged incident took place on the evening of July 5 between 8-9:30 p.m., the warrant says.
Aiken County deputies arrested him Monday and charged him with criminal sexual conduct in the third degree. He was later released on bond.
A woman answering the phone at the business said they had no comment and referred questions to attorney Everett K. Chandler.
The alleged sexual battery is not related to the business and the alleged victim is not a client, Chandler said.
Dr. Wallace is the same man who was charged in 2006 with child cruelty while teaching at Sego Middle School. According to media reports, at least two seventh grade students accused Wallace of allowing–even suggesting–that eighth grade students use physical force to discipline them.
Authorities charged him with allowing older students to beat younger ones. Also, he was accused of sending younger students who acted up in class to a closet at the school, where older students hit them, according to media reports. The outcome of those charges was not immediately clear.
Despite the allegations, he was allowed to finish out the school year, sparking protest on how the case was handled by the school district.
His new arrest led to some debate on social media. One Facebook user said this: "Dang Mr. Wallace can't seem to get his life together. Swear I thought he'd learn from the incident that took place when I was in 8th grade and he was getting students to 'handle' other unruly kids."
Another said, "I hope justice is served this time!"
According to an online bio, Dr. Wallace was born in Wurzburg, Germany and raised in Augusta, Ga. He earned a Bachelor of Science Degree in Biology in 1998 from Jackson State University in Jackson, Miss.
"With a desire to provide natural approaches to promote healing, Dr. Wallace attended the renowned Palmer College of Chiropractic in Davenport, Iowa, where he earned his Doctorate of Chiropractic Medicine in 2003," the bio says. "After graduating, Dr. Wallace returned to Augusta and began practicing at Augusta Chiropractic Clinic with Dr. Samuel Milhous from 2003 to 2007. Dr. Wallace furthered his chiropractic experience practicing at Pidcock Chiropractic with Dr. Scott Pidcock and later established his independent practice, Spine Doctors of Aiken, LLC. In addition to providing chiropractic care, Dr. Wallace teaches anatomy, physiology and other health sciences at area colleges."