A 42-year-old Augusta man was charged Friday with child molestation for allegedly having a sexual relationship with his wife's 15-year-old sister, authorities said.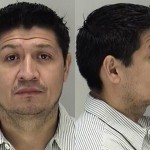 Elmer Solorzano-Rios, 42, was charged with one count of aggravated child molestation and one count of non-aggravated child molestation.
According to a sheriff's report, investigators were called to Glenn Hills Middle School on Wednesday. That's where a guidance counselor said three students had informed her that a classmate was having a sexual relationship with her brother-in-law. The counselor said the 15-year-old girl lives in the home with her sister and sister's husband. In fact, the sister is the teen's legal guardian.
An investigation led to the charges, and officials with the Department of Family and Children Services were notified of the situation, the report said.