An Augusta mother was charged this week with child cruelty for failing to seek immediate medical care for her injured baby, authorities said.
Rebecca Lynn Davis, 35, Augusta, knew her 21-day-old baby had been violently mishandled by his biological father in March but failed to seek medical attention, according to an arrest warrant.
The baby "sustained a fractured femur, a fractured left fibula, and bruising around both thighs," the warrant says. This caused the child excessive pain, but Davis "refused to seek immediate medical attention." Davis was charged Tuesday with cruelty to children in the second-degree and remained in jail Friday afternoon without bond.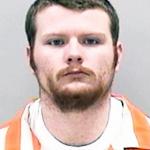 The father, 21-year-old John Logan Scrithfield, was charged in March for cruelty to children in the first-degree. He allegedly caused the injuries to the baby while at the couple's home on Cottonwood Drive, an arrest warrant says.
A sheriff's report says the couple were advised on March 18 by a private doctor to take their newborn son to Augusta University Medical Center due to bruising on his left leg. X-rays revealed the fractures.
A DFACS case worker was called to the scene and took custody of the victim, a report says. According to the doctors at AUMC , the injuries were not consistent with accident and were abuse.   Custody of the baby was later given to the maternal grandparents, the report says.