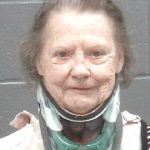 Columbia County authorities arrested an elderly woman Friday who allegedly caused a deadly wreck in April that killed an Evans woman.
Dorothy Powell, 76, of Grovetown, was charged with homicide by vehicle in the second degree and failure to stop or yield. She has since been released on bond.
Powell was driving a Dodge Caliber around 3:40 p.m. on April 6 when she pulled into the path of a Precision Waste trash truck on Columbia Road. The trash truck hit Powell's vehicle and then shot into the westbound lane, hitting the left side of a Kia SUV driven by 43-year-old Stacy Joy of Evans.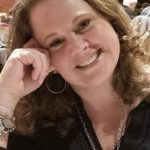 Joy (pictured at right) died at the scene while her husband William and their 10-year-old son Asher were taken to the hospital and survived.
An obituary says the victim had recently earned her Master's Degree in Library and Information Science but being "Mama Bear" to Asher was her heartbeat.
Powell (pictured in her mugshot with a neck brace) was also taken to the hospital. The driver of the trash truck was not injured, authorities said.
Second degree homicide by vehicle is a misdemeanor offense, and may result in up to 1 year in jail, and/or a fine of $1,000.
For more crime news, pick up the current edition of The Jail Report, sold in local gas stations.