An Aiken man found dead in the back of a pickup truck had been shot repeatedly, authorities said.
Denzel "Zel" D. Bates, 21 (pictured),was found deceased in the back of a Dodge pickup truck on Ruston Road just after 2 a.m. Wednesday morning.
"Mr. Bates died from multiple gunshot wounds and his death is a homicide," Chief Deputy Coroner Darryl M. Ables said in a press release.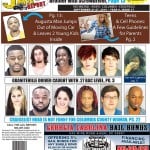 For more crime news, pick up this week's edition of The Jail Report, sold in local gas stations for $1.50.
No word on a suspect in the crime.
Anyone with information is asked to contact the Aiken County Sheriff's Office at 803-648-6811. Individuals may also call Crime stoppers of the Midlands: 888-CRIME-SC (888-274-6372). Callers can remain anonymous and may be eligible for a cash reward up to $1000.
Note: If you have a better picture of Denzel Bates or a memory to share, please text it to 803-487-3224, and we'll try to add it to this story.