The body found in an Aiken wooded area Thursday was an Edgefield man who hung himself, the coroner says.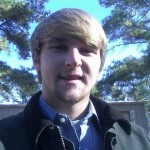 The body of Drayton Mims, 21 (pictured) was discovered in a wooded area near Trolley Line Road in Aiken, Coroner Tim Carlton said.
"Autopsy revealed that Mr. Mims died as a result of hanging. Manner of death is suicide," the coroner said in a press release. "Mr. Mims had left Aiken Regional Medical Center voluntarily back on August 29, 2015 and had not been seen since."
On Aug. 25, Mims posted a message on his Facebook page that said, "Never in my life have I ever felt so much pain." His Facebook page indicates he was a young father of two boys.
His wife posted a message on New Year's Eve that said, "This time last year, I would have never dreamed my life would be what it is now. I pray that wherever you are Drayton, you know we love you and miss you. Happy new year. Come home soon…"
(Editor's Note: Our policy is not to report suicides unless they are public. In addition, the initial news in this case was reported that a body had been found in a wooded area in Aiken, leaving the public with questions about the mysterious death. We felt it necessary to report the conclusion of the case to let residents know this was NOT a homicide. We send our condolences to the Mims' family.)