A couple was caught having sex inside a truck Monday at New Generations Park in Aiken in broad daylight, authorities said.
Michael Bentley, 48, of Union Church Lane, Aiken, and Paula Krause, 45, of Spinnaker Lake, Ridge Spring, were both charged with indecent exposure.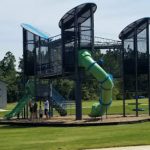 A young woman was visiting the park with her family when she saw the couple acting suspicious. The woman then discovered the pair were "full on having sex in the truck," a report says.
A responding deputy found the couple in disarray, with Krause confessing that she was supposed to pick up her son at school and did not. The child's father – who was not Bentley – was able to pick up the child, a report says.
Krause and Bentley confessed to drinking alcohol before the sexual rendezvous, a report says. Both were taken to jail and booked.
For more crime news, pick up the latest edition of The Jail Report.