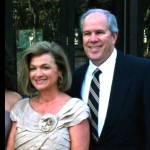 An Augusta couple were struck by a car and injured while eating outside on Broad Street Saturday afternoon, and the driver of that wreck was cited for at-fault charges.
In an unrelated wreck, a 16-year-old driver was charged after a passenger was ejected in a Saturday night wreck on the I-520 East exit ramp, authorities said. (Details below)
In the downtown accident, a deputy responded at 1:25 p.m. Saturday to 594 Broad Street. An investigation revealed that 57-year-old Boyce Williams accidentally hit the gas pedal instead of brake pedal after doing an illegal U-Turn while trying to park. His vehicle jumped the curb and struck Joseph and Renee Howell, ages 67 and 58 respectfully. The couple are pictured above.
The couple were sitting at a table on the sidewalk in front of 594 Broad Street (Sports Center).
"Mr. Howell was pinned between the front of the vehicle and front exterior wall of 594 Broad Street.  Mrs. Howell was pinned under the vehicle," a press release says.
Mr. Howell – who works as the Senior Deputy Clerk at the U.S. District Court for the Southern District of Georgia – suffered a broken right leg and both of them were taken to the Augusta University Medical Center E. R. for treatment. Their condition was stable.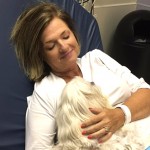 On Facebook, Renee Howell posted this picture with her dog Molly at the hospital Saturday night with this message:
"We were hit by a car while dining out doors in a restaurant on Broad Street. Car pinned us up against the front of the restaurant. Could have been a whole lot worse. After an ambulance ride to MCG – bruises and stitches. We are home and planning to go to my class reunion. Nothing keeping us down! Byw – Mollys stroller was totaled . She ran and was found unharmed at the Augusta Museum and returned safely due to her ID collar and a nice lady."
Boyce Williams was cited for the at fault charges and he was also taken by Goldcross to the same hospital for private medical reasons.
In the I-520 wreck, no names or conditions were given in a press release. IN a short statement, authorities said the sheriff's officer STAR team responded at 9:13 p.m. Saturday to an accident with serious injuries on the westbound exit ramp of I-520, Exit 1A-B and eastbound I-20.
"One passenger was ejected from the vehicle," the press release says. "This was a single-vehicle accident and charges were made on a 16 year old driver of the vehicle.  STAR Investigators will conduct a follow up with the passengers in the hospital. Depending on their outcome, further charges maybe pending."
Updated info: "16 year old was driving with 5 of her friends in the car. She has multiple charges including an Open Container, driving too fast for conditions and others. One passenger has skull damage."