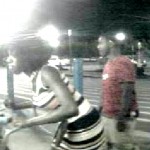 This couple stole two cell phones and a TV from the Evans Walmart on May 22, and authorities need your help in identifying them.
The couple went into the store around 1 in the morning, took two cell phones and a TV and placed them in the cart. The pair then exited the store on the grocery side without paying for the items.
An investigation revealed that the subjects left in a light-colored, four-door sedan.
If you recognize them, please call the Columbia County Sheriff's Office at 706-541-2800.
Don't forget to pick up Wednesday's new edition of The Jail Report for more crime news from the CSRA! It's sold at local gas stations for $1.50.