A Cross Creek High School student was armed with a BB gun on campus when he forced a 14-year-old classmate to perform oral sex on him last week, according to a warrant.
Darius Nathaniel Brown, 17, was charged Friday with weapons on school property and child molestation.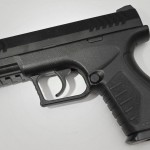 According to warrants, Brown brought the realistic-looking gun (like the one pictured here) and kept it in his gray 2007 Toyota Camry while parking at Cross Creek High School in Augusta. The gun is described as a black Umarex, model 4.5 mm BB gun.
At some point, Brown got a 14-year-old girl into his vehicle and threatened to shoot the girl "if she did not perform oral sex on him," an arrest warrant says.
Brown was arrested Friday and remained Monday in the Richmond County Detention Center under no bond.
For more crime news, pick up this week's edition of The Jail Report, which includes our annual holiday coloring contest. Winners are given $100 each.