An Augusta man was found shot to death Saturday night when Richmond County deputies answered a call for gunshots on Cougar Drive.
Ira Green, 58, was shot about 9 miles from where he lives on Perkins Drive, according to Coroner Mark Bowen. He was pronounced dead a 10:40 p.m. Saturday after suffering at least one gunshot wound.
His daughter says his wife and the rest of the family are still in shock.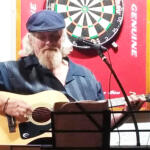 "He was a musician and rolling stone all of his life," she said. "Couldn't read music but could replay almost any song and wrote his own."
He leaves behind his daughter, wife, step-daughter and stepson.
Deputies were first called to the 2300 block of Cougar Drive at 9:43 p.m. Saturday for shots fired.
"Investigators have arrived on the scene and the investigation is in its early stages. There is no suspect information at this time," sheriff's Sgt. William McCarty said in a press release Saturday night.