The coroner is investigating the death of n Augusta mother who was being held in jail for neglect following the death of her autistic son.
Stephanie Jones Hawes, 48 (pictured), died at University Hospital Monday morning. She and her husband had been jailed since May for neglect after their adult son died while living in a locked, windowless bedroom, authorities said.
But Mrs. Hawes was transported from the jail to University Hospital in July. It appears Hawes died as a result of a "pre-existing medical condition," but the coroner is investigating, a press release says.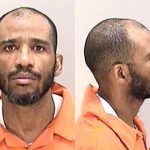 Mrs. Hawes and her husband, 50-year-old Antoin Hawes Sr., 50, were both arrested in mid-May for neglect of a disabled adult. The shocking details of their son's living conditions and death were spelled out in a sheriff's report as well as a press release by Coroner Mark Bowen. The coroner labeled the death of 28-year-old Antoin Hawes Jr. as "suspicious."
"The victim was kept in a bedroom with no furniture, no lights, no air conditioning and the windows boarded up due to his medical condition," the coroner said in May. "Hawes slept on the floor of the bedroom on what appeared to be two couch cushions covered in trash bags."
Hawes lived at the residence with his parents and two siblings. He had autism and hyper active disorder, according to a sheriff's report.
Here is what investigators found in the victim's bedroom:
• A 5-gallon bucket filled with urine and fecal matter.
• A makeshift mattress consisting of a few pillows wrapped in a garbage bag.
• The floor was wet with an unknown substance.
• Blood covered the outside of the door as well as a door handle that locks from the outside.
• The windows were sealed shut with wood panels covering the entire openings.
• No heat or air conditioning.
• No lights.
When asked about the locked bedroom door, the victim's father said they would lock Antoin Hawes Jr. in the bedroom at night or when he would get to be "too much to handle," a report says.
Mr. Hawes remained in the Richmond County Jail this week.