A dead man with a bullet wound was found Sunday morning at a vacant lot on the 1200 block of Holden Street in Augusta.
Authorities have corrected an erroneous report that the body was found in an abandoned home.
Richmond County authorities are calling it the "Holden Street Homicide." They say someone else notified them about the dead man and they discovered the body had a gun shot wound.
"This investigation is in the beginning stages," a lunchtime press release says. "At this time, there are no suspects in custody."
The victim's identity has not been released.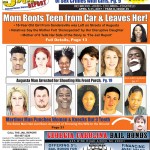 For more crime news, pick up this week's edition of The Jail Report.