An Augusta woman who was caught stealing vodka from her neighbor's garage on Saturday confessed that she was an alcoholic "desperate" for a drink.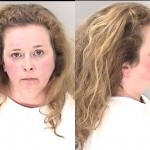 Pamela Rinker, 47, was spotted drinking the vodka seconds after she took it from her neighbor at 6:30 a.m. Saturday, according to a sheriff's report.
The neighbor called authorities and said she looks out her kitchen window and saw Rinker approaching her open garage. She then saw the woman leave with a vodka bottle and beer.
"She observed Rinker open the bottle of vodka and drink the remaining amount, which was about one-fourth of the bottle," the report says. "She then confronted Rinker prior to her opening the bottle of beer."
Rinker told a responding deputy that she took the alcohol with the intent of drinking it.
"When asked why, Rinker stated she is an alcoholic and did not have use of a vehicle and advised she 'was desperate' for a drink. Rinker further stated she has been managing her alcoholism with antidepressants, but she ran out earlier this week," the report says.
The neighbor said she told Rinker to stay off her property in the past, but the neighbor continues to come on her property since there is a refrigerator in her garage filled with alcohol.
The victim told deputy she wanted the woman arrested, and deputies booked her on charges of theft by taking, a misdemeanor.
Rinker pleaded guilty lats month to a DUI and was sentenced to a day in jail and a year of probation.