A deputy's discovery on Saturday of a naked man crawling outside his Augusta home in the cold led to his caregiver's arrest, authorities said.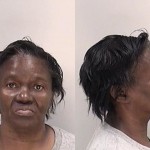 Brenda Cummings, 63, was charged with neglect to a disabled adult in the case. She remained in jail Sunday.
A deputy responded around 6 p.m. Saturday to an apartment on Belmont Avenue (pictured) for a call of indecent exposure. The deputy found the 66-year-old victim "incoherent" and "crawling outside, naked, in the cold weather," according to a sheriff's report.
From the sheriff's report: "Upon further investigation, deputies made entry into his residence through an open rear door, and observed the residence to be dirty, with a heavy urine smell and unlivable, with no food in the refrigerator or freezer. Deputies also observed Millbrook's mattress which was saturated in urine and human feces."
A paramedic arrived and transported the victim to Augusta University Medical Center  for a mental health evaluation. Hospital officials advised they would be keeping the man for at least five days due to the severity of his health. AUMC advised they contacted Adult Protective Services and would be assigning a case worker to the man and placing him in a temporary residence.
Cummings, who doesn't live there, arrived shortly after and told deputies that she was Millbrook's payee and caregiver.
"She stated she left this morning after giving him medication and changing him," a report says. "Cummings was placed into custody and transported to (jail)."
Don't miss our special edition – Worst Crooks of 2017 – in stores now.