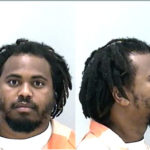 An Augusta man was charged Thursday morning in a double homicide that claimed the lives of two young men at Glenwood Apartments.
Ryan Taylor, 29, of Woodcock Drive, has been charged with two counts of murder and weapon possession in the deaths of Malik Harvey, 19, and Jahlil Brickhouse, 20.
Original Story:
Two young men were fatally shot at Glenwood Apartments in Augusta late Wednesday and two possible suspects were located, authorities said.
Malik Harvey, 19, and Jahlil Brickhouse, 20, were both shot at the apartments on Lumpkin Road and both were pronounced dead around 11 p.m. Wednesday after being rushed to Augusta University Medical Center, Coroner Mark Bowen said.
"While investigating the call, Deputies were able to locate two possible subjects responsible for the shooting," sheriff's Sgt. Caleb Lee said in a press release.
No suspect names were released. The investigation is "ongoing," Sgt. Lee said.
Check back here for updates…
Note: If you have a better photo or memory to share of the victims, please text it to The Jail Report at 803-487-3224.